Natural Beekeeping Author Ross Conrad to speak in Burnsville November 9th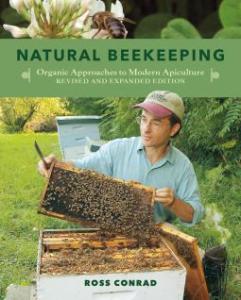 The Toe Cane Beekeepers Association present a special evening with author and beekeeper Ross Conrad on November 9, 2015 from 6:00 to 9:00 pm at the Burnsville Town Center. Admission is FREE.  Conrad will be speaking on overwintering and spring management of bees and the evolution of the beekeeper. There will be refreshments and time for discussion as well.
Conrad is a former president of the Vermont Beekeepers Association, a regular contributor to Bee Culture–The Magazine of American Beekeeping, and author of Natural Beekeeping: Organic Approaches to Modern Apiculture. Ross has given bee-related presentations and led organic beekeeping workshops and classes throughout North America for many years. His beekeeping business, Dancing Bee Gardens, supplies friends, neighbors, and local stores with honey and candles, among other bee-related products, and provides bees for Vermont apple pollination in the spring. Ross Conrad learned his craft from the late Charles Mraz, world-renowned beekeeper and promoter of apitherapy.
The Toe Cane Beekeepers Association works to increase the number of beekeepers in Yancey & Mitchell Counties through educational presentations, support and mentoring.  In addition the club has awarded complete hives, equipment and honey bees to new beekeepers yearly and seeks to promote the planting of pollinator trees in public places.  This special free event was made possible by the club, in-kind individual donations as well as support from Yancey and Mitchell County Farm Bureaus. For more information please call 678-0329. The Burnsville Town Center is located at 6 S Main St in Burnsville, NC.
Directions from Asheville:  Take I-26 West to Exit 9. Turn right on 19E towards Burnsville.  In Burnsville, turn left at the light onto S. Main Street.  Town Center is on your immediate left.  (There is a CVS and Burger King on your right at the intersection of 19E and S. Main St. ) Drive time from Asheville is about 40 minutes.
————-